The K9 Unit was created in 2002 where then, Officer Cranford was paired up with K9 Konan.  Konan was later paired up with Sgt. Rich Mark.  Konan, an all black German Shepherd, was trained in suspect apprehension, building searches, tracking, and narcotics detection.  He was trained to detect cannabis, methamphetamine, cocaine, and heroin.  Konan was responsible for multiple narcotic related seizures.  Konan passed away on duty in 2010.

In 2010, Officer Nick Bridges was paired up with K9 Gosh.  K9 Gosh, a sable colored German Shepherd, came from Belgium.  He attained a Bh, Schutzhund I, and Schutzhund II title before coming to Chillicothe.  Schutzhund is a dog sport testing dogs in the areas of obedience, tracking, and protection.  Schutzhund III is the highest title a dog can earn.  K9 Gosh is trained and certified as a dual purpose dog.  He is trained in tracking suspects and the lost, handler protection, and narcotics detection.  K9 Gosh can detect cannabis, methamphetamine, cocaine, and heroin.  K9 Goshs' vehicle is equipped with a Hot n Pop system.  It detects the temperature in the squad car.  If the A/C fails, an alarm will go off alerting to a vehicle failure.  Also, Officer Bridges has a button on his uniform, he if he gets into trouble and needs Goshs' help, the button can be pressed and the vehicle's door will open allowing K9 Gosh to help.  K9 Gosh has had multiple drug arrests, vehicle impounds, vehicle and cash seizures to date.  In 2014 Gosh was euthanized due to illness.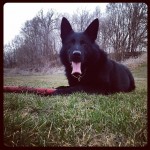 In March of 2014 K9 Dark joined the department.  He is paired up with Sergeant Bridges..  K9 Dark was 17 months old when he arrived in Chillicothe.  He is an all black German Shepherd from Germany.  He is a dual-purpose canine.  He is trained find cannabis, cocaine, heroin, and methamphetamine.  He is also trained in tracking, article search, building search, suspect apprehension, and handler protection.  In 2015, K9 Dark competed in K9s4Cops national competition in Houston, TX.  In 2016, K9 Dark and Sgt. Bridges earned Peoria County Sheriff's Office Top Dog Award.
K9 Dark has his own FACEBOOK and INSTAGRAM page!  Give them a Follow!
Below is our memorial for our past K9's.
You can also find a a life size wood carving done by Tim Gill outside our police department in honor of our K9's